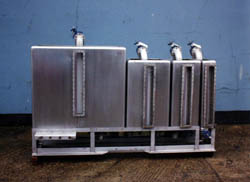 About

Lobec Fabrications Services Ltd
Lobec Fabrications Services Ltd Based in Great Yarmouth became part of the Armultra Group an independently owned manufacturing company specialising in high quality steel fabrication and service support we can offer the complete offshore engineering solution from survey through to design procurement and commissioning to the Oil and Gas, Renewable Energy sectors and Maritime Industry, operating throughout the UK and overseas.
Lobec Fabrications Services Ltd has built a sound reputation by consistently meeting their client's needs. This has been achieved in association with a dedicated management team, and a highly trained workforce. This, encompassed with close interface with the client, has attributed to many successful seamless operations.
Lobec Fabrications Services Ltd is accredited to ISO 9001:2008 and ISO 14001. The company prides itself on constantly moving forwards and in compliance with the Quality Management Manual, procedures and legislations, Lobec Fabrications Services Ltd has and will always ensure that quality and safety are always at the forefront of all projects undertaken, irrespective of size.
As part of our on-going commitment and continued growth, Lobec Fabrications Services Ltd re-located to a new facility in 2006. The secured site comprises of 7800 sq ft main workshop being equipped with modern equipment, This, along with a large laydown area permits Lobec Fabrications Services Ltd to undertake a number of diverse projects at a similar time. Lobec Fabrications Services Ltd also has a comprehensive range of mobile equipment suitable for all aspects of off-site work.
Lobec Fabrications Services Ltd has always considered their best asset to be their experienced craftsmen, all of whom have the necessary skills, versatility, team approach and safety awareness to successfully complete all work to a high standard. The team of multi-coded welders are fully conversant with MIG, TIG and MMA processes, and currently hold all positional approvals for carbon, stainless pipe and plate steel work. Lobec Fabrications Services Ltd holds a full range of welding procedures and welder approvals with our current documentation to BSEN and ASME and AWS standards.
Additionally new procedures can be put in place to suit any client project needs.
Good business practices are paramount to success. Lobec Fabrications Services Ltd will continue to establish these practices with special attention to training within the new equipment and technology areas.